Platinum WFF-member
Posts: 326
Joined: Wed Feb 08, 2012 8:41 am
Here's a brand admittedly I'd never heard of.
http://www.ebay.com/itm/FABULOUS-NOS-70S-LEUBA-LOUIS-SWISS-MENS-WATCH-LOOK-/230557793217?pt=Wristwatches&hash=item35ae50bbc1
FABULOUS NOS 70'S LEUBA LOUIS SWISS MEN'S WATCH - LOOK
Item condition:New without tags
Price:US $174.99 Buy It Now
Item location:
Saint-Laurent, Quebec, Canada

Here's an ad from the 1970s, with a sharp-looking tank!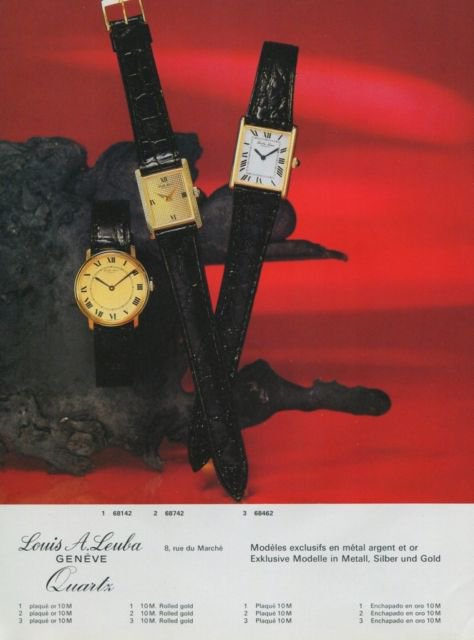 Here's one with a black dial!
A rope bezel and a smooth black leather strap in contrast...bet it feels nice!
---
Return to Vintage & Classic Watches
Who is online
Users browsing this forum: No registered users and 1 guest