Platinum WFF-member
Posts: 326
Joined: Wed Feb 08, 2012 8:41 am
I went to a local jewelry store to get a battery for one of my old (non-tank) watches...Pulsar PVM012s. They are an authorized Citizen dealer, so I decided to check out a few of the models they had there. I saw this one, and it looked interesting for a "daily driver."
I put it on and immediately realized it was too big. I liked the looks of it, but the size just put me off. The price was $179. Two strikes!
Then, I saw this one (a quartz model.) It reminded me of my old Citizen Elegance model with the 6355 movement in it. Nice dial, without many complications, and not like wearing a clock on my wrist.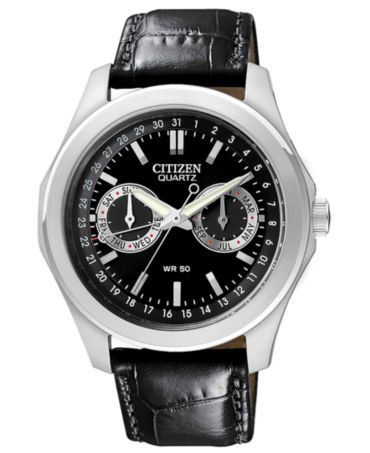 The price was $79! I didn't have it on me at the time, but I will be coming back to get that one methinks. It's time to broaden my horizons a bit with watches. I'll ALWAYS love tank watches, but there are other designs that are nice too. Looks like this might be my Christmas present to myself this year. I deserve it.
WF
---
You DO deserve it, and it's an excellent choice. I had a Guess once that looked a lot like it, and I loved it. Unfortunately the glass broke and I didn't get it fixed. Have no idea what happened to it, but I don't have it anymore ... although I have a habit of keeping stuff.

Speaking of Christmas, I will be giving my significant other something interesting ... stay tuned for details.
---
Platinum WFF-member
Posts: 326
Joined: Wed Feb 08, 2012 8:41 am
I was also thinking of trying one of these on. I saw them before when I went to get a new battery and crocodile strap for my Seiko tank.

I do know that I don't want to pay more than $100 for one.
---
Return to Vintage & Classic Watches
Who is online
Users browsing this forum: No registered users and 1 guest