The only time I've ever contacted someone famous personally to ask about their watch, was about ten years ago when I wrote this girl:
Her name is Henriette. She was presenting a popular Danish morning show on tv, and wore a very lovely and classy goldplated watch on a brown leatherstrap. It made me nuts everytime I saw it!! So I had to know. She was kind enough to reply my email, and told me it was a Mulberry, an engagement gift from her husband. I have never seen it since, until I found it on Ebay today, albeit steel with a black strap, used @ £400 starting bid
It's nice, but not
that
nice: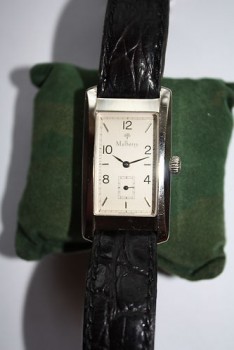 This is the men's model, and hers was a bit smaller, but otherwise identical in style.
---
Return to Vintage & Classic Watches
Who is online
Users browsing this forum: No registered users and 1 guest