A beautifully restored-to-mint condition 1937 Gruen "Curvex" gold watch:
Starting bid $1100 - probably more than it was as new!!
http://www.ebay.co.uk/itm/1937-Vintage-GRUEN-295-CURVEX-50mm-WWII-LONGest-DeCo-Mens-14K-gold-F-Watch-peer-/300875457011?pt=Wristwatches&hash=item460d9321f3
---
In my attempt to ID Minnie Driver's watch in
Good Will Hunting
I just had a blast from the past on eBay.
In the early 90's I did some work for a company, who was represented by a sporty lady in her 40's. She wasn't "hot" by any means, but very nice, and she wore this very cool, midsize two-tone Seiko Kinetic watch. You know, the old ones with the power-reserve indicator on the dial. It looked awesome on her.
I've only seen them worn by others a few times since, and it's been a while since last time, probably 10 years at least. And today, there it was, listed on eBay as used with a $160 Buy-It-Now price or "Best Offer".
Not that I'm interested, there are many other, and more contemporary, watches I'd rather buy in this price range, but I LOVED that watch back then, and it still gets my heart beating:

---
A vintage Glashutte, very nice!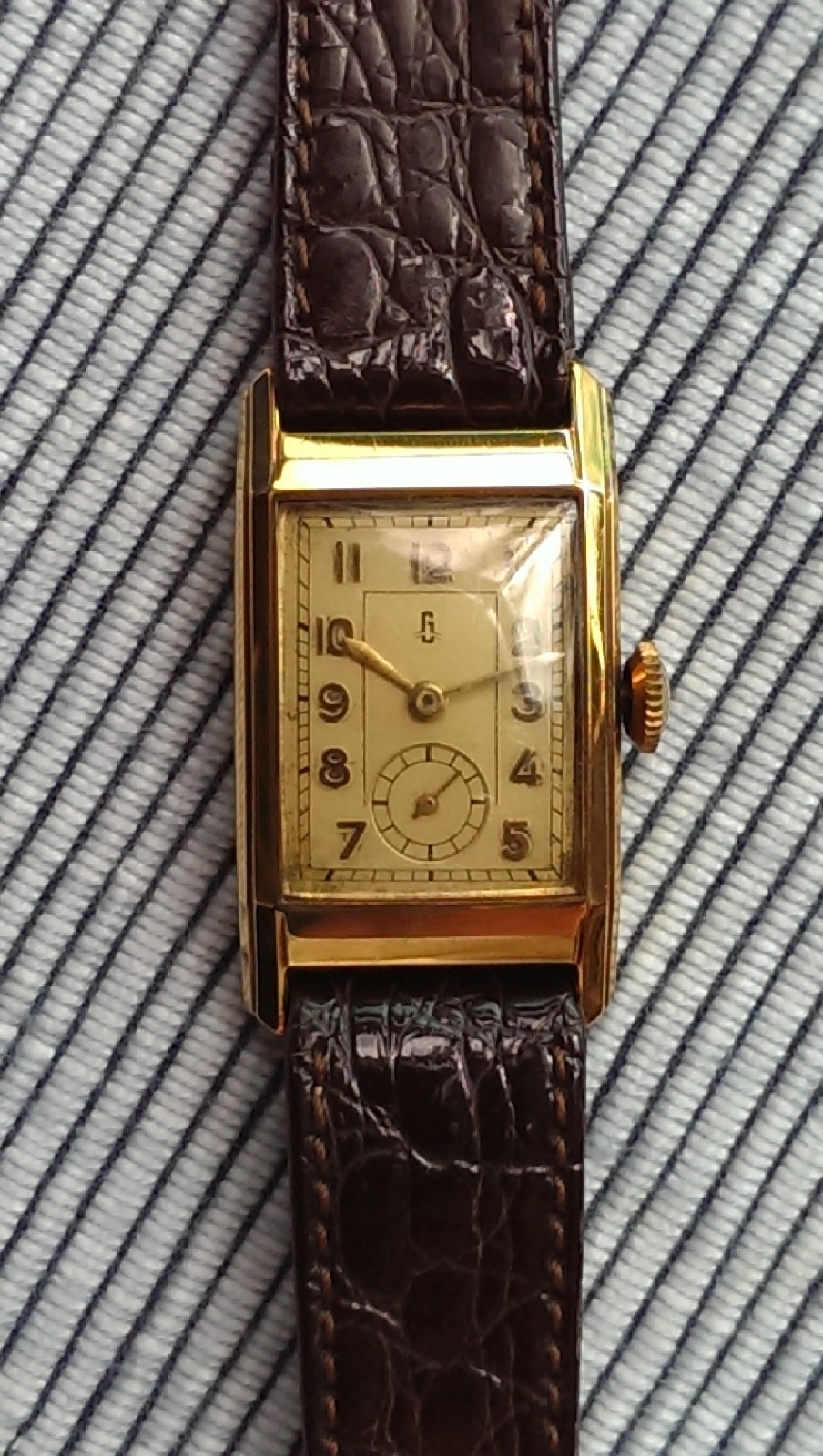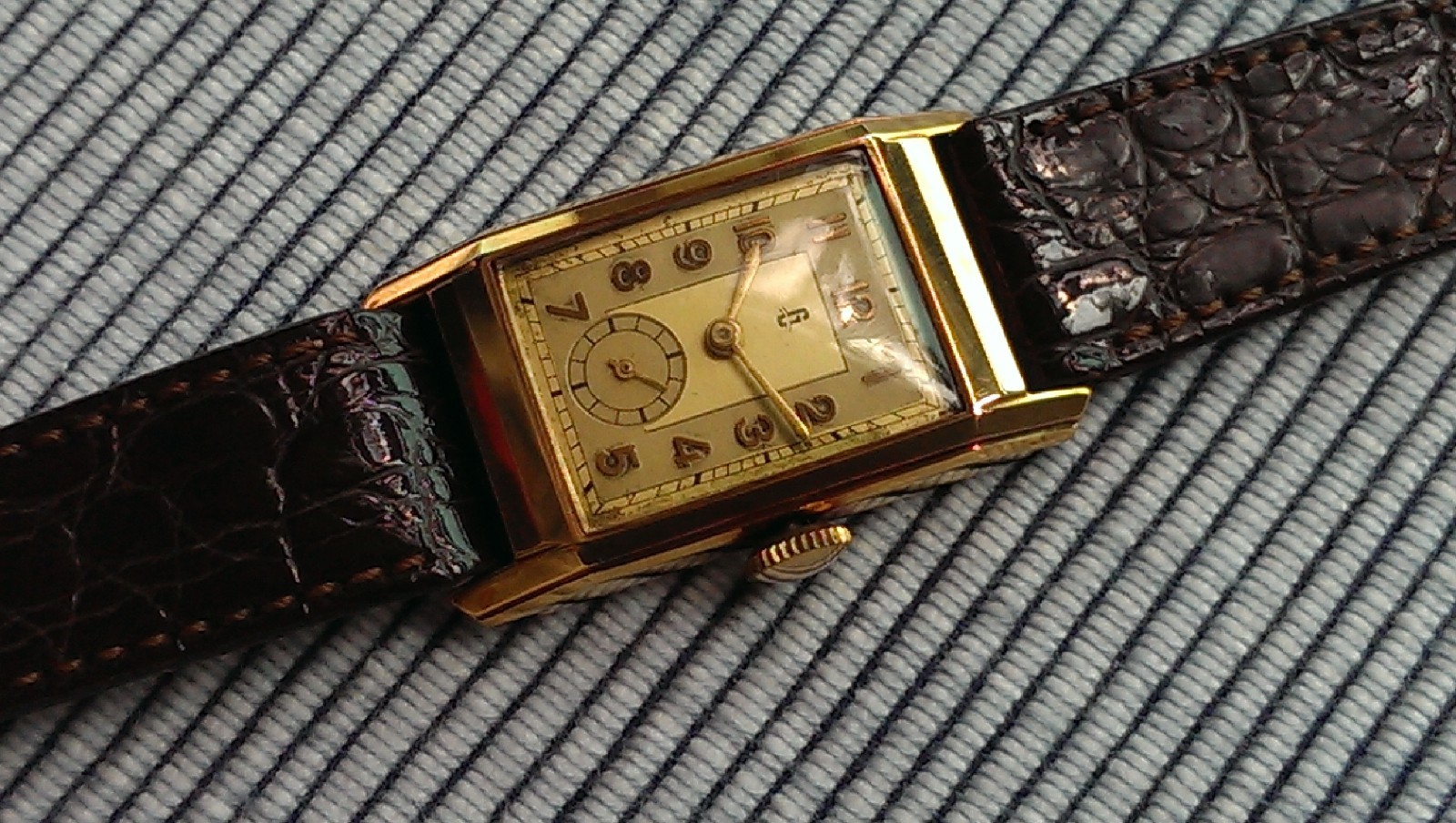 $1500 or Best Offer.
http://www.ebay.co.uk/itm/Vintage-Glash ... 1010296600
---
I don't remember posting these, so here goes:
Cartier Vermeil Tank his and hers watches owned by Marlon Brando. He was a famous Hollywood actor, and these were bought for his mistress apparently.
rwpotter (75 )
Item condition:Pre-owned
Time left: 6d 23h (Nov 15, 2013 14:38:19 PST)
Starting bid:US $1,500.00
[ 0 bids ]
US $1,500.00 or more
100% positive
Item location:
Oakdale, California, United States




http://www.ebay.com/itm/Cartier-Vermeil-Tank-his-and-hers-watches-owned-by-Marlon-Brando-/190962289457?pt=Wristwatches&hash=item2c763d4b31
They are tarnished, but could be brought back to beautiful condition with a little TLC.
---
Today's *drool*
I'll take this one just as it is. Absolutely beautiful.




CARTIER AUTHENTIC SWISS MENS 18K SOLID GOLD PARIS TANK WATCH ROMAN WHITE DIAL.
Cartier Leather Band 18k Cartier Deployment Buckle.
times_past (842 )
100% Positive feedback
Item condition:Pre-owned
Time left: 29d 13h (Dec 12, 2013 11:04:49 PST)
Price:US $2,750.00 Buy It Now
Shipping: $39.99 One-day Shipping
Item location:
Houston, Texas, United States
http://www.ebay.com/itm/CARTIER-AUTHENTIC-SWISS-MENS-18K-SOLID-GOLD-PARIS-TANK-WATCH-ROMAN-WHITE-DIAL-/141114216834?pt=Wristwatches&hash=item20db101182
---
Watchfreak,

sorry I never commented on the "Brando-pair". Guess I was just amazed about the lack of information (like the history) behind the watches. There were none. Which is probably the reason why no one placed a bid.

The new post ... wow, so slim! Just beautiful.
---
I remember seeing this in a JCPenney sales flyer back in the 80s. I believe it was the first men's watch that I allowed myself to be aroused by:


http://www.ebay.com/itm/Citizen-Elegance-model-6355-wrist-watch-/331072477168?pt=Wristwatches&hash=item4d157517f0
I didn't buy one back then because I didn't want to spend $150 on it. Years went by, and I found one on ebay for TEN bucks that still worked, but it didn't have the original black leather strap on it, which I also liked. It was also smaller than I anticipated. The watch takes 18mm straps, which I was disappointed in. I decided to keep it and try different straps on it. I tried several and found one that was close to the original. I still want to find an NOS one, or maybe I'll pull the trigger on that one. Here's the one I have now:
I think the strap I have on it suits the watch nicely for the moment. Maybe I can find an NOS strap?
---
Buddy, sometimes I think we may have been separated at birth. That one would've gotten my attention, too, but as a ladies watch.
There was a time in the very late 80's/early 90's were (at least here in Scandinavia) girls actually wore these kind of watches. Often they would be with a moonphase dial and excessivily oversized, much larger than what the wear today. The trend wore off rather quickly, tho.
With this "new" oversized watch-trend we have at the moment you do see similar watches from time to time, just as vintage watches are more popular than ever. However, I wish more women would wear vintage tank-style watches, obviously!
---
An actual image from an eBay listing. Probably wouldn't have been my approach.

Simply hillarious.
---
Here's another nice Movado tank...take a close look at the strap; it has a unique feature.











MOVADO EXTREMELY THIN -18 KT. G.P. -RARE- TANK STYLE-QUARTZ MIDSIZE RETRO WATCH
Seller information
kurtzrobert (3 )
100% Positive feedback
Time left: 6d 06h (Dec 21, 2013 15:31:51 PST)
Starting bid:US $700.00
[ 0 bids ]
MOVADO 18 KT. GOLD PLATED EXTRAORDINARILY SLIM MIDSIZE VINTAGE QUARTZ WATCH Designed and Swiss Manufactured 28 years ago, this elegant watch is a one of a kind. For the person seeking an extremely, breath-taking thin watch case and quartz movement that measures 3.5mm from crystal top to case-back bottom (9/64ths of an inch). It measures about 1mm thicker than a 1921 U.S. Silver Dollar coin. Virtually the world's thinnest midsize watch. The black lizard watch strap length is 8.25" including the watch. A custom designed unique pocket hides the strap end once it is tucked into the strap pocket. There's nothing equal to this detailed and neat strap design. Here Are The Accessories You Get: 1. Original Movado Box 2. Original Movado Presentation Case 3. Original Movado Operation Manual 4. Original Movado Warranty Card 5. New Battery (no. 341) watchmaker installed before shipping. This is a fabulous gift for the lucky person that can appreciate a classic timepiece whose precision craftsmanship, outstanding quality, remarkable design, uniqueness and Movado authenticity that are now only a memory. A particularly rare watch having excellent time-keeping accuracy, beautifully enhanced with a sapphire cabochon crown. Have Questions? Want to See More Photos? Call Robert at: 610 640 4048
http://www.ebay.com/itm/MOVADO-EXTREMELY-THIN-18-KT-G-P-RARE-TANK-STYLE-QUARTZ-MIDSIZE-RETRO-WATCH-/111238818430?pt=Wristwatches&hash=item19e659aa7e
I think I'm in love....
---
Return to Vintage & Classic Watches
Who is online
Users browsing this forum: No registered users and 1 guest